I don't know if I've mentioned this before, but my 老公 has some roots in Macau. His mother's family lived there for a couple of generations before moving to Hong Kong. So he has an ongoing obsession with the place which is really all too easy to understand as Macau is an altogether fascinating place. It's a city with a history nearing 500 years, one of the first trading posts in the Far East, and was and still is exquisitely poised inbetween East and West.
This unique characteristic shows through in both the people of Macau, the Macanese, and the Macanese cuisine. They are both a mix of all the different cultural influences that touched upon the tiny trading port, from Chinese to Portuguese, to Malay and Japanese, Sinhalese and even Indian. The cuisine of Macau is really the world's first 'fusion' food, using and mixing elements of all these cultures together to form a truly distinct cuisine. So fascinating and truly unique, a thing hard to find in the current 'global' world.
As part of his recent Macau obbsession, my 老公 made this deceptively simple looking soup noodles and it was SO YUMMY! This Macanese Shrimp and Vermicelli Soup Noodles 澳門蝦湯米粉, or Sopa de Lacassá, is a traditional Macanese dish usually prepared as a light lunch or perhaps an afternoon snack and is, as traditional and truly tasty food ought to be, a bit more complicated and time consuming than your average instant noodles, but TOTALLY worth it!!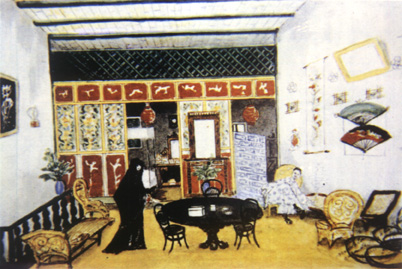 Dó clad senhora in the interior of a typical Macanese home
(album of Commander Filipe Emílio de Paiva, 1902-1903)
I want to share a short and sweet detour into some wonderful images I found on Macanese culture while researching this post. This a typical Macanese home from nineteen hundreds. You can still see these types of wooden houses in Macau today, some of them lovingly preserved, others falling to pieces.
See the Chinese influence in the beautifully carved dark wood furniture and Portuguese influence in the patterned tiles and the European style stuffed armchairs.
Macanese senhora clad in traditional attire, the dó, from the early twentieth century

This is the portrait of a Macanese lady in her lovely traditional Macanese saraça dress and dó headdress. The style of the dress is again a fusion of many cultures, showing influences of Portuguese, Chinese, Indo-Malay and Japanese cultures!
Keeping in mind this unique cultural mixing, we present likewise themed main flavorings for this Macanese soup: shrimp paste, ginger and bay leaves. The shrimp paste and ginger are flavors of the East and the
bay leaf
a flavor of the West.
Shrimp paste
, if you haven't come across this before, is made of finely crushed shrimp or krill that is then mixed with salt and left to ferment, creating a very, very strong smelling but wonderfully tasty condiment that is ubiquitous to almost all the Asian cultures. It's similar to how anchovies work in that once you add it to the mix, the original smell and taste disappear into the dish and work magic on the flavors.
During my research I have discovered that Macanese shrimp paste is different from Chinese shrimp paste with the added flavor layers of chilli peppers, lemon, black and white pepper, cloves, bay leaf and rice wine. I've never actually had Macanese shrimp paste but we have been buying our most favorite shrimp paste from a little old store in Macau for years. I've been meaning to write about the store...aargh...I'm so forgetful!
The noodles used are
rice vermicelli noodles 米粉
, also know as rice sticks or rice noodles. These are not to be confused with cellophane or bean thread vermicelli noodles which are made from mung bean starch and are transparent after cooking. Rice vermicelli noodles are made from, well, rice. These noodles are lovely in that they absorb surrounding flavors and are easily digestible.
To prepare the rice vermicelli for use, just soak in boiling hot water for 5 mins. Remove immediately and rinse with cool water to stop the cooking. The vermicelli is now cooked and ready to eat.
We used
flash frozen shell on prawns
but you can use any sort of shrimp you've got on hand. De-shell and devein the shrimps, reserving shells and heads.
The shrimp shells and head go into a pot of water with the shrimp paste, ginger and bay leaf to make the soup stock. This is a cool piece of food magic and the secret to this dish's umami, shrimp shells and heads make the most delicious stock! And if you like to plan ahead, you can make this stock anytime you have shrimp shells and then freeze the stock for use later.
Now all that's left is to add in the shrimp and cook until just pink. Slip in the noodles to warm up and your Macanese Shrimp and Vermicelli Soup 澳門蝦湯米粉 is all ready to serve!
You won't believe how tasty the soup is, we all three of us finished both noodles and all the soup down to the last drop in record time! And wanted more, however, unfortunately, there was no more. Cuz we ate it all. So be forewarned, you'll probably want to make exra cuz everyone's gonna want seconds!
Macanese Shrimp Vermicelli Soup Recipe
澳門蝦湯米粉
(adapted from this wonderful Macanese recipe site)
(makes 3 bowls) Prep time: 10 mins Cook time: 12 mins
Ingredients:
Directions:
Remove shrimp shell and head, reserving then for the stock. Use scissors to snip open along the back curve of shrimp and remove the black vein. Wash shrimp. If shrimps large cut into two and three pieces.
Prepare rice vermicelli by placing into pot or bowl and covering completely with boiling water. Cover and leave for 5 mins. Test if cooked through and remove immediately from hot water and run under cool tap water to stop cooking process.
Add shrimp shells and heads, water, ginger, bay leaf and shrimp paste to pot and heat to a boil. Reduce heat to a simmer and cook for 10 mins. Strain stock and return just the stock to the pot. Add in the shrimp and white pepper and cook another few mins until shrimps just turn pink. Add noodles and let cook for a minute or until the noodles are warmed through.
Ladle noodles to bowls, add a splash of olive oil and top with chopped spring onions. Enjoy this taste of Macau!
*Tip: If using the solid block kind of shrimp paste, just fry the shrimp paste in some olive oil until dissolved and then add to your stock.
Google